BLACKBOARD SKETCHING
By

FREDERICK WHITNEY

Director of Art, State Normal School,
Salem, Massachusetts

Published by
MILTON BRADLEY COMPANY
SPRINGFIELD. MASS.

COPYRIGHT, 1908
BY MILTON BRADLEY COMPANY
SPRINGFIELD, MASS.
PRINTED IN THE UNITED STATES OF AMERICA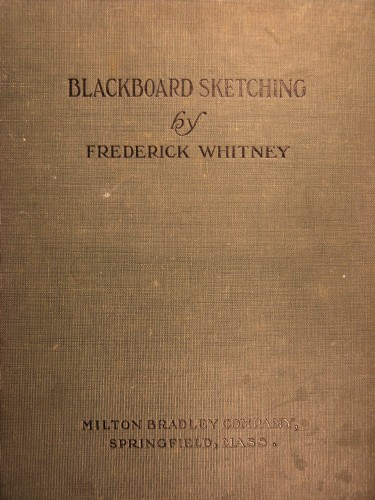 Introduction
ABILITY to draw easily and well on the blackboard is a power which every teacher of children covets. Such drawing is a language which never fails to hold attention and awaken delighted interest.
It has been considered impossible for most of us, because we have never done it. It has been strongly recommended, but no one has really shown us how.
A book like this which does show how, step by step, from the first practice strokes to completed and effective sketches, will be everywhere welcome. No one can follow the plain suggestions given without appreciating the possibilities of chalk and charcoal for ordinary school-room illustration, and finding in himself a steady development of power to sketch on the black­board.
The book is not the product of theories about drawing, but the fruit of long experience of one who has drawn with and for children and students and teachers. and has been more success­ful than any one I know in inspiring them by that means. I welcome the book and predict for it a potent influence for in­creasing and improving blackboard drawing throughout the schools of the land.
WALTER ARGENT.
North Scituate, Mass.
Author's Introduction
Tins collection of blackboard sketches and the accompanying text has been planned at the request of many teachers and pu­pils who desire lessons and suggestions along this line, but who are unable to secure personal instruction.
In general, these requests have been for simple sketches dealing with the various lines of school work, and at the same time for strokes and explicit directions for using these in the drawings. For these reasons there are given upon nearly every plate the strokes of the chalk useful in producing the desired effect, and upon the opposite page such directions as are generally given to the students in the classroom.
A few of the lessons deal with the strokes and their application to the very simplest objects possible, but even these may be found useful as illustrative material. They are recommended in order that the teacher may become familiar with the medium, and with the simplest and the most direct manner of handling it before attempting sketches which requite a great variety of touches. I have tried to have the other sketches cover as great a variety of subjects as possible.
Plates 3, 5, 8, 10, 11, 13, 14, 15, 16, 17, 18, 22, 23 and 29 have been used with the little people in different forms of sto­ries, language and reading lessons. Plates 7, 8, 9, 10, 11, 18, 27, 28 and 29 are suggested for geography lessons in various grades. Plates 8, 14, 15, 16, 17, 18, 27, 28 and 29 may be used in history lessons. Plates 1 and 3 have been used in primary numbers, and plates 27 and 28 for arithmetic, when the problems had to do with commission, measurement, etc., or when the problems referred to lumbering or manufacturing. Plates 4, 5, 6, 11, 12, 13, 19, 20, 21, 22, 23, 24, 25, 27 and 28 will be found helpful in many lines of nature study, especially when the nature specimens are difficult to obtain. Plates 9, 24, 25 and 26 illustrate the value of this line of drawing in the study of litera­ture; and many of the other drawings may be used in a similar manner. The teacher who uses this type of illustrative sketch­ing will readily see how the drawings may be applied to other subjects.
Teachers have occasionally asked for illustrations for the different months of the school year, something to use with calendars, or for different holiday drawings. Several sketches given on the plates are suitable for the various months. For calendars I suggest discarding the plaided pumpkin for Novem­ber, the numbered bricks in a fireplace for December, the kite covered with numbered squares for March, etc., etc. A regular numbered calendar may be used, with an appropriate sketch above or at one side. See Plate 13, goldenrod. The holiday itself should suggest the character of the sketch.
Although these sketches are recommended as illustrations for certain subjects, it is not intended that the teacher should merely copy these drawings, but that she should be able to appropriate these strokes, enlarge upon them, and apply them in illustrations for the particular subjects she is teaching; and there are many subjects which require just this sort of expres­sion on the part of the teacher.
"Children are not all ears; they take in more through the eyes than in any other way."
Since all teachers know this is true, they should realize the usefulness of illustration on the blackboard.
A few moments now and then devoted to the practice of these strokes, and frequent application of them, will enable the teacher better to express and emphasize certain facts, details, or incidents connected with a lesson; better to hold the interest and attention of the class, and more readily to create an interest in drawing. She will thus, by example, lead the children to make the drawing a natural and spontaneous means of expression.