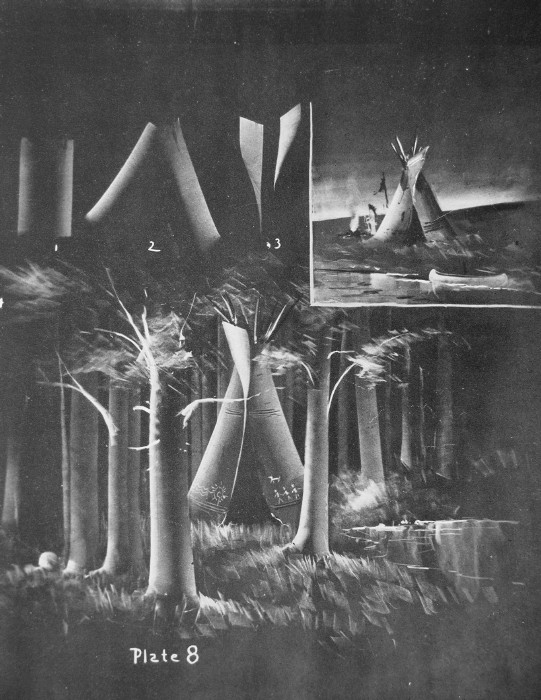 BLACKBOARD SKETCHING
PLATE 8
In the exercise illustrated on the opposite page you will find combinations of the strokes already given, but they are varied somewhat In rendering these drawings. Any sketch or object to be drawn should dictate the kind of stroke to be used and the manner of handling the chalk, the pressure, accent, etc.
For the larger sketch, draw first the tree trunks as shown at No 1. Let the pressure be as gentle as possible, the chalk hardly touching the board. After these are massed in the back­ground, erase a triangular spot for the wigwam, and with the oblique strokes 2, accented first at the left. then at the right, obtain the general form required. Stroke 3 is added at the top of the wigwam, and a bit of charcoal is used for the dark tone at the opening. Now add the decorative details.
In order to complete the sketch, use stroke 4 for the fore­ground. It is similar to those previously used, and is made by an irregular, up-and-down movement of the chalk.
A pond, a canoe, or other suggestive detail may be used in this sketch, and applied to the work in history, geography, lan­guage, etc.
Try the second little drawing, using similar strokes in a very simple manner.