BATTLE GROUND ADVENTURES

THE STORIES OF DWELLERS ON THE SCENES OF CONFLICT
IN SOME OF THE MOST NOTABLE BATTLES OF THE CIVIL WAR

COLLECTED IN PERSONAL INTERVIEWS BY
CLIFTON JOHNSON

Illustrated by Rodney Thomson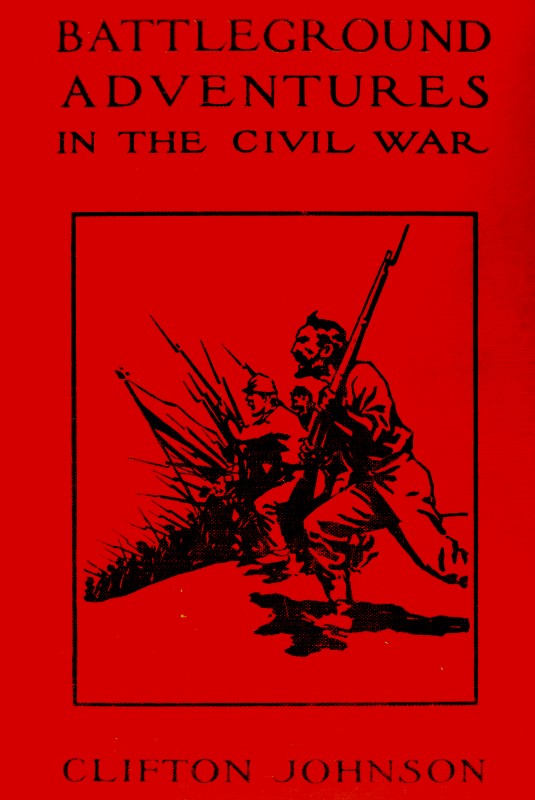 BOSTON AND NEW YORK
HOUGHTON MIFFLIN COMPANY
The Riverside Press Cambridge
COPYRIGHT, 1915,
BY CLIFTON JOHNSON
Published November 1915
THESE battleground experiences cover what is probably the only important phase of the Civil War that has not been adequately treated. They view the struggle from the Standpoint of the home. Here you see the terror and pathos, the hardships and tragedy, through the eyes of those who lived where some of the greatest conflicts of the war occurred. You see how property was destroyed and industry disrupted, and how much the people not directly concerned in the fighting suffered. There are, besides, glimpses of life as it was antedating the war, and of the aftermath of adjustment to new conditions, and of the superstitions that populate the battlefields with ghosts of the former contendants.
The material for the volume was gathered in 1913, nearly fifty years after the war ended. Some of the narrators were small children in the Civil War days, but whatever their age had been the incidents of that chaotic time were indelibly impressed on their memories. They told of what they had seen with convincing vividness, and fortunately, also, with much of humor and picturesqueness.
I have recorded what they said as frankly as they related it, and in their own language, whether that was one of education and culture or of rude illiteracy. Possibly some portions would be pleasanter reading were certain of the horrors omitted. But why should we not face the reality and see war in all its savagery? Nothing can so hasten the coming of the time when war as a method of settling disputes will not be tolerated as a clear understanding of its essential barbarism.
Occasionally an informant has misapprehended the character and purposes and acts of the other side, but these misapprehensions are worthy of record because they reveal a mental attitude which was not without its effect in making the conflict more bitter. Of similar value are the comments of the blacks on the whites and those of the whites on the blacks, though sometimes uncharitable and unjust.
It is all very human, and my purpose has been to get a free and genuine expression of both recollection and feeling and to retain as far as possible the personality of each of the many speakers.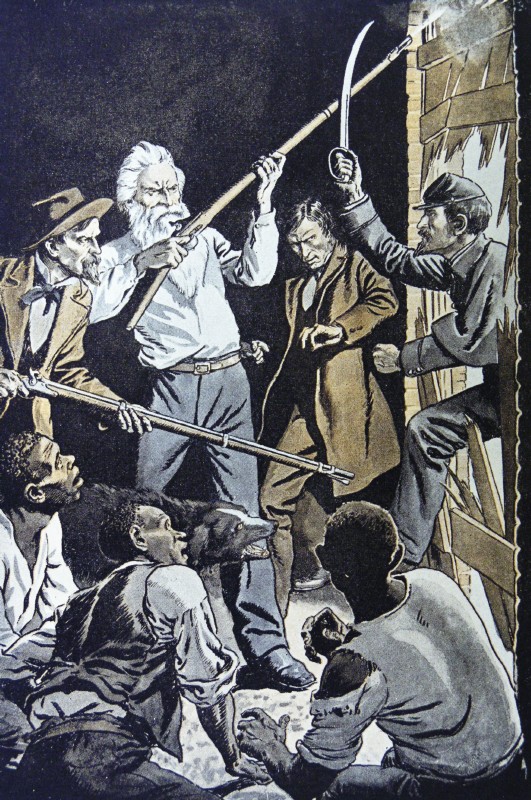 THE CAPTURE OF JOHN BROWN
THE CAPTURE OF JOHN BROWN
THE MOB IN THE TAVERN
WATCHING THE BURSTING BOMBS
A RELIC OF THE OLD BATTLE
GENERAL LEE'S BREAKFAST IS INTERRUPTED
A NARROW ESCAPE
COLORED REFUGEES GOING NORTH
WATER FOR THE MARCHING TROOPS
THE RUNAWAY BROILS SOME MEAT
THE SLAVE WIFE JOINS HER HUSBAND
THE SHARPSHOOTER AFTER THE BATTLE
A FRIENDLY OFFICER
THE WOUNDED MAN AND HIS HARDTACK
A HOSPITAL VISITOR
SETTING FIRE TO THE BUILDINGS
THE SPOOK IN THE BARN