Kellscraft Studio
Home Page

Nekrassoff
Informational
Pages

Web Text-ures©
Free Books on-line

Guide to
Illustrators Page

Our Cats'
Very Own
Web Pages!



TREASURE ISLAND

ROBERT LOUIS STEVENSON

EDITED WITH AN INTRODUCTION AND

NOTES BY FRANKLIN T. BAKER, A.M.,

PROFESSOR OF ENGLISH IN TEACHERS

COLLEGE, COLUMBIA UNIVERSITY

NEW YORK

CHARLES E. MERRILL CO.

COPYRIGHT, 1909
BY
CHARLES E. MERRILL CO.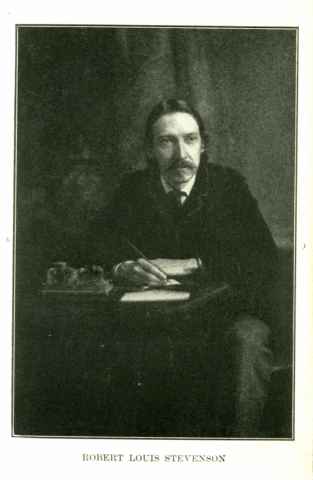 EDITOR'S PREFACE
THIS little classic of Stevenson's is now definitely placed in the category of school books. It has taken this rank because of its undoubted appeal to young readers, and because of the high order of its workmanship. If, however, its place among school books means that it is to be made, through mistaken editorial and pedagogical zeal, a task instead of a pleasure to the boy, the choice of it for such purposes is a grave mistake. The present editor has therefore sought only to furnish such notes as will save the reader from the inconvenience of going to the dictionary, and such comments as will enlighten him regarding the high place the book has won with readers of cultivated tastes.
F. T. B.
October 1, 1909.
PUBLISHERS' NOTE
THIS series of books will include in complete editions those masterpieces of English Literature that are best adapted for the use of schools and colleges. The editors of the several volumes will be chosen for their special qualifications in connection with the texts to be issued under their individual supervision, but familiarity with the practical needs of the classroom, no less than sound scholarship, will characterize the editing of every book in the series in connection with each text, a critical and historical introduction, including a sketch of the life of the author and his relation to the thought of his time, critical opinions of the work in question chosen from the great body of English criticism, and, where possible, a portrait of the author, will be given. Ample explanatory notes of such passages in the text as call for special attention will be supplied, but irrelevant annotation and explanations of the obvious will be rigidly excluded.
CHARLES E. MERRILL CO.
CONTENTS
INTRODUCTION
PART I. — THE OLD BUCCANEER
I. THE OLD SEA DOG AT THE ADMIRAL BENBOW
II. BLACK DOG APPEARS AND DISAPPEARS
PART II. — THE SEA COOK.
VIII. AT THE SIGN OF THE "SPY-GLASS"
XI. WHAT I HEARD IN THE APPLE BARREL
PART III. — MY SHORE ADVENTURE.
XIII. HOW MY SHORE ADVENTURE BEGAN
PART IV — THE STOCKADE.
XVI. NARRATIVE CONTINUED BY THE DOCTOR —
HOW THE SHIP WAS ABANDONED
XVII. NARRATIVE CONTINUED BY THE DOCTOR —
THE JOLLY BOAT'S LAST TRIP
XVIII. NARRATIVE CONTINUED BY THE DOCTOR —
END OF THE FIRST DAY'S FIGHTING
XIX. NARRATIVE RESUMED BY JIM HAWKINS —
THE GARRIS0N IN THE STOCKADE
PART V. — MY SEA ADVENTURE.
XXII. HOW MY SEA ADVENTURE BEGAN
XXIV. THE CRUISE OF THE CORACLE
PART VI. — CAPTAIN SILVER.
XXXI. THE TREASURE HUNT — FLINT'S POINTER
XXXII.THE TREASURE HUNT — THE VOICE AMONG THE TREES
XXXIII. THE FALL OF A CHIEFTAIN
TOPICS AND QUESTIONS FOR STUDY