Kellscraft Studio
Home Page

Nekrassoff
Informational
Pages

Web Text-ures©
Free Books on-line

Guide to
Illustrators Page

Our Cats'
Very Own
Web Pages!
OUR LITTLE SERVIAN COUSIN
By
Clara Vostrovsky Winlow
Author of "Our Little Bohemian Cousin," "Our Little Bulgarian Cousin" etc.
Illustrated by
John Goss
Copyright, 1913, by
L. C. PAGE & COMPANY
(INCORPORATED)
All rights reserved
First Impression, October, 1913
THE COLONIAL PRESS
C. H. SIMONDS & CO., BOSTON, U. S. A.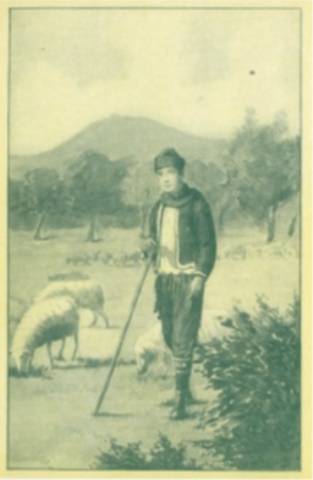 "He liked best the tending of the sheep."
OUR little Servian cousin lives in one of the Balkan countries, in the southeastern part of Europe. These countries have just emerged successfully from a war with their old enemy, Turkey which will no doubt result in a considerable enlargement of the territory of each.
Servian people are to be found not only in the kingdom of Servia, but also in the brave little neighboring kingdom of Montenegro, which, tiny as it is, has nevertheless always maintained its independence of Turkey; and also in several countries belonging now to Austria-Hungary: Croatia and Slavonia, Dalmatia, Istria, Bosnia and Herzegovina, Banat, etc.
Small and comparatively unimportant though the Servian kingdom is to-day, it was once a powerful empire. The memory of this past history has been kept alive in the hearts of its people through stirring folk songs and ballads, many of them of great beauty, and the hope has never died that some day their beloved country would regain its past glories.
At present there is a growing, united-race feeling among all Servians, wherever found.
In the past there have been artificial boundary lines, due partly to the diplomatic intrigue of other nations, but largely, too, to a difference in religion, that of Servia and Montenegro being Russo-Greek, that of several of the Austrian countries being Roman Catholic.
With so many Servian inhabitants, one at heart with their Mother Land, Servia, forming part of the Austria-Hungarian Empire, it is natural, perhaps, that the latter should fear and discourage in every possible way the growth and advancement of the Servian kingdom, which also forms a barrier to Austria's further expansion towards the south.
To understand the mutual hatred of the Servians and the Austrians it is necessary to keep this antagonism of interests in mind.
CLARA VOSTROVSKY WINLOW.
September 1, 1913.