The American Woman Abroad

Written and profusely illustrated
by

Blanche McManus
New York
Dodd, Mead and Company
1911
Copyright, 1911, By
Dodd, Mead and Company
Published, October, 1911
The Quinn & Boden Co. Press
Rahway, NJ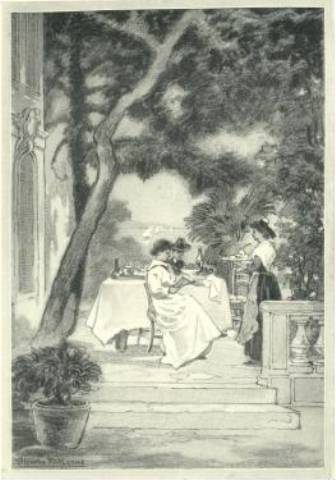 FOREWORD
THE American Woman needs no introduction abroad.
Always she is the most welcome of the throngs of self-invited guests who attend the great annual "At Home" which the European world holds for the visiting strangers, an entertainment that is becoming an all the year around function.
All that Europe has to offer is hers on call, so long as she radiates that graciousness and appreciation which everywhere distinguishes her--the most vivacious and distinctive feminine personality of all the women of the world to be seen on the European Playground.
To the American woman abroad is due the credit of having so far influenced the conventions and traditions of the Old World as to have it recognise and accept with good grace (in so far at least as her own actions are concerned) a new standard of feminine conduct--freer and more independent than its own, but none the less modest and self-protective.
The scheme of the following chapters is that of discursive comments on the more intimate and personal phases of life in European countries which might be of interest to the American woman at home or abroad; whether she is the casual summer bird of passage across the Atlantic, or is planning a house-hunting tour of Europe, or only wants to read about it comfortably at home.
In this book, it is hoped, will be found set forth fairly and correctly the results of the observations of one who has tried to study the values in the foreign picture with an open mind.
Toulon, France. B. McM.