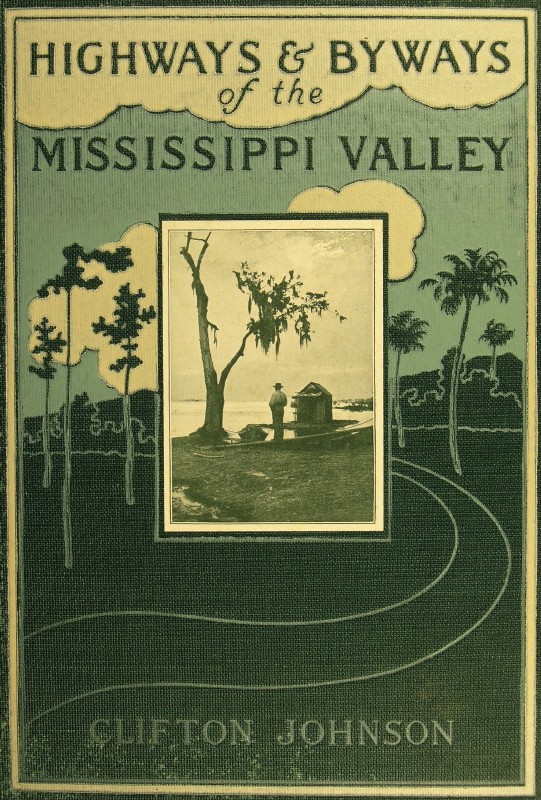 HIGHWAYS AND BYWAYS
OF THE
MISSISSIPPI VALLEY

WRITTEN AND ILLUSTRATED BY
CLIFTON JOHNSON

Published by
THE MACMILLAN COMPANY

New York
MCMVI
LONDON: MACMILLAN AND CO., LIMITED
Copyright, 1906,
by The Macmillan Company.
Set up and electrotyped.
Published October, 1906.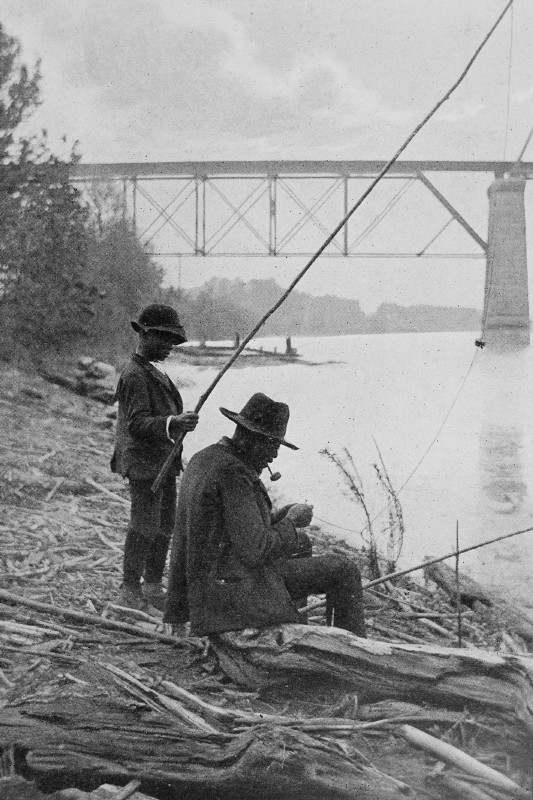 Baiting the Hook
MOST of the chapters in this volume were first published in The Outing Magazine. Other portions have appeared in The Delineator, in Good Housekeeping, and in The New England Magazine.
Electrotyped and Printed at the Norwood Press, Norwood, Mass.
Contents

Illustrations
Baiting the Hook
A Worker
One of the Old Narrow Streets
Little Italians
On the Way to her First Communion
"Shooting Craps"
The Captive
Dragging an Alligator from its Hole
A Camp in the Swamps
A Shot at a Deer
A Cabin Window
Hoeing Sugar-cane
The Students
In the Heat of the Day
High Water
A Dugout
Beside the "Bayou"
A Landing at the Levee
A Negro Cabin
The Sitting Hen's Prison Coop
On the Porch
Explaining the Situation
Returning to Camp from the Village
Work in the Woodland
The Fishermen
The Weather in the Almanac
Browsing in the Woods
Going to Market
Travellers
Beside the Kitchen Fire
Making a Hen-coop
Prospects of a Blackbird Pie
In time of Flood
Soft-soap
The Stepping-stones at the Ford
Mark Twain's Boyhood Home
A Game of Quoits
Afternoon Comfort
Visiting
The Prophet's Well
An Old Mormon Doorway
A Garden Bonfire
Calking the Boat
Making a Willow Whistle
Ditching
Churning at the Back Door
A Notice on the Schoolhouse Door
Renewing a Town Walk
The Fascination of the Stream
A Pitcher of Milk
A Pause in the Day's Labor
A Rustic Bridge
Upper Mississippi
At the Back Door
Making Lye for Soft-soap
Starting for Work
A House-boat Dog
The News
Fishermen
A Bateau
The Forest Fire
Floating Logs down the Mississippi near its Source
The Frame of an Indian Wigwam

Introductory Note
LIKE its predecessors, this volume concerns itself especially with country life. To the traveller, no life is more interesting, and yet there is none with which it is so difficult to get into close and unconventional contact. Ordinarily, we get only casual glimpses. For this reason I have wandered much on country roads and lodged most of the time with the farm families or at the village hotels. In both text and pictures I have tried to show actual life and nature as I saw them in characteristic and interesting sections from one end to the other of the vast valley.
The volumes in this series are often consulted by persons who are planning pleasure tours. To make the books more helpful in this respect, I have appended to each chapter a note containing suggestions for intending travellers. With the aid of these notes, I think one can readily decide what regions one would like particularly to see, and know how to see such regions with the most comfort and facility.
CLIFTON JOHNSON.

HADLEY, MASS.