Kellscraft Studio
Home Page

Nekrassoff
Informational
Pages

Web Text-ures©
Free Books on-line

Guide to
Illustrators Page

Our Cats'
Very Own
Web Pages!
Return to Previous McManus Page Next McManus Page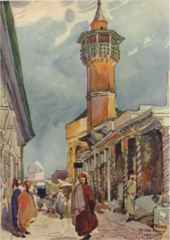 Artwork of Blanche McManus
Little is known regarding this artist, except that she was born in East Feliciania Parish, Louisiana, in 1870, studied in London and Paris, and travelled with writer/husband, Francis Miltoun (Mansfield), throughout Europe and North Africa around the turn of the century. Their collaboration led to a series of travel books, fully illustrated by McManus. On these next few web pages are part of the many illustrations she executed for these books, many as watercolors, while the majority were pen-and-ink and charcoal sketches. Her work is little known, but it exemplifies the best tradition of Arts and Crafts artwork of the time.
Series 002: Scenes of Algeria and Tunisia:
from the book:
Spell of Algeria and Tunisia
Written by Francis Miltoun and illustrated by Blanche McManus. Boston:
L.C. Page & Co. 1908.
Click on any image to see a larger sample image:
Previous McManus Page Next McManus Page
Other Kellscraft Studio links:
Nekrassoff Collector's Page Web Text-ures Content Page
Contact us at:



(return to Kellscraft Studio Home Page)