THE ENGLISH GOVERNESS AT THE SIAMESE COURT:
BEING RECOLLECTIONS OF SIX YEARS IN THE ROYAL PALACE AT BANGKOK.
BY
ANNA HARRIETTE LEONOWENS.
With Illustrations
FROM PHOTOGRAPHS PRESENTED TO THE AUTHOR BY
THE KING OF SIAM
BOSTON:
JAMES R. OSGOOD AND COMPANY,
LATE TICKNOR & FIELDS, AND FIELDS, OSGOOD, & CO.
1873.
Entered according to Act of Congress, in the year 1870,
BY YIELDS, OSGOOD, & CO.,
In the Office of the Librarian of Congress, at Washington
UNIVERSITY PRESS: WELCH, BIGELOW, & Co.,
CAMBRIDGE.
THE SUPREME KING




TO
MRS. KATHERINE S. COBB.


I Have not asked your leave, dear friend, to dedicate to you these pages of my experience in the heart of an Asiatic court; but I know you will indulge me when I tell you that my single object in inscribing your name here is to evince my grateful appreciation of the kindness that led you to urge me to try the resources of your country instead of returning to Siam, and to plead so tenderly in behalf of my children.

I wish the offering were more worthy of your acceptance. But to associate your name with the work your cordial sympathy has fostered, and thus pleasantly to retrace even the saddest of my recollections, amid the happiness that now surrounds me, — a happiness I owe to the generous friendship of noble-hearted American women, — is indeed a privilege and a compensation.

I remain, with true affection, gratitude, and admiration,

Your friend,


A. H. L.
26th July, 1870.






PREFACE.


HIS Majesty, Somdetch P'hra Paramendr Maha Mongkut, the Supreme King of Siam, having sent to Singapore for an English lady to undertake the education of his children, my friends pointed to me. At first it was with much reluctance that I consented to entertain the project; but, strange as it may seem, the more I reflected upon it the more feasible it appeared, until at length I began to look forward, even with a glow of enthusiasm, toward the new and untried field I was about to enter.

The Siamese Consul at Singapore, Hon. W. Tan Kim-Ching, had written strongly in my favor to the Court of Siam, and in response I received the following letter from the King himself: —

"ENGLISH ERA, 1862, 26th February.

GRAND ROYAL PALACE, BANGKOK.

"To MRS. A. H. LEONOWENS: —

"MADAM: We are in good pleasure, and satisfaction in heart, that you are in willingness to undertake the education of our beloved royal children. And we hope that in doing your education on us and on our children (whom English call inhabitants of benighted land) you will do your best endeavor for knowledge of English language, science, and literature, and not for conversion to Christianity; as the followers of Buddha are mostly aware of the powerfulness of truth and virtue, as well as the followers of Christ, and are desirous to have facility of English language and literature, more than new religions.

"We beg to invite you to our royal palace to do your best endeavorment upon us and our children. We shall expect to see you here on return of Siamese steamer Chow Phya.

"We have written to Mr. William Adamson, and to our consul at Singapore, to authorize to do best arrangement for you and ourselves.

"Believe me


"Your faithfully,


(Signed) "S. S. P. P. MAHA MONGKUT."





About a week before our departure for Bangkok, the captain and mate of the steamer Rainbow called upon me. One of these gentlemen had for several years served the government of Siam, and they came to warn me of the trials and dangers that must inevitably attend the enterprise in which I was embarking. Though it was now too late to deter me from the undertaking by any arguments addressed to my fears, I can nevertheless never forget the generous impulse of the honest seamen, who said: "Madam, be advised even by strangers, who have proved what sufferings await you, and shake your hands of this mad undertaking." By the next steamer I sailed for the Court of Siam.

In the following pages I have tried to give a full and faithful account of the scenes and the characters that were gradually unfolded to me as I began to understand the language, and by all other means to attain a clearer insight into the secret life of the court. I was thankful to find, even in this citadel of Buddhism, men, and above all women, who were "lovely in their lives," who, amid infinite difficulties, in the bosom of a most corrupt society, and enslaved to a capricious and often cruel will, yet devoted themselves to an earnest search after truth. On the other hand, I have to confess with sorrow and shame, how far we, with all our boasted enlightenment, fall short, in true nobility and piety, of some of our "benighted" sisters of the East. With many of them, Love, Truth, and Wisdom are not mere synonyms but "living gods," for whom they long with lively ardor, and, when found, embrace with joy.

Those of my readers who may find themselves interested in the wonderful ruins recently discovered in Cambodia are indebted to the earlier travellers, M. Henri Mouhot, Dr. A. Bastian, and the able English photographer, James Thomson, F. R. G. S. L., almost as much as to myself.

To the Hon. George William Curtis of New York, and to all my other true friends, abroad and in America, I feel very grateful.

And finally, I would acknowledge the deep obligation I am under to Dr. J. W. Palmer, whose literary experience and skill have been of so great service to me in revising and preparing my manuscript for the press.

A. H. L.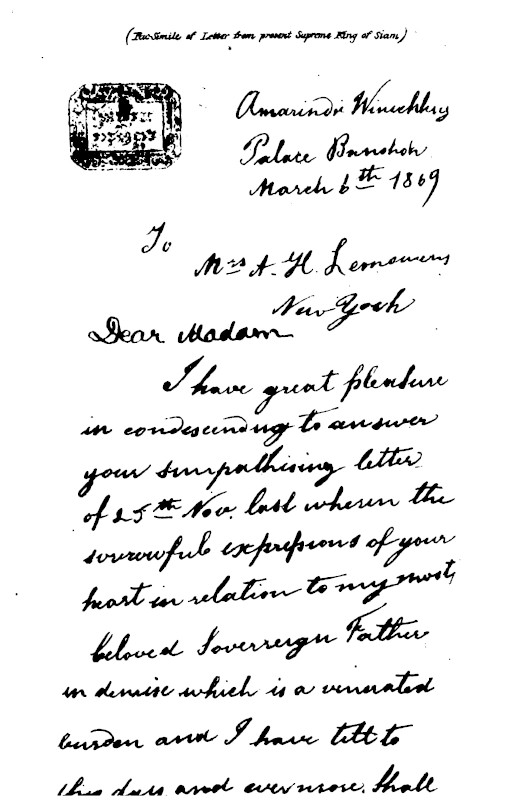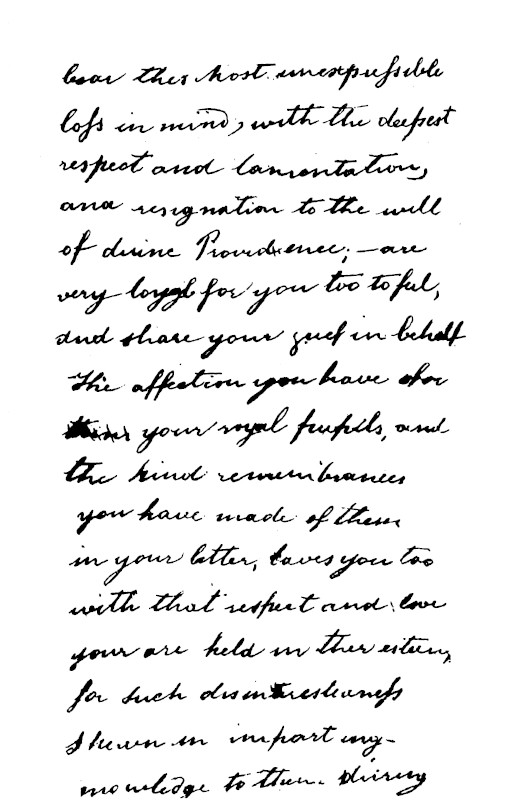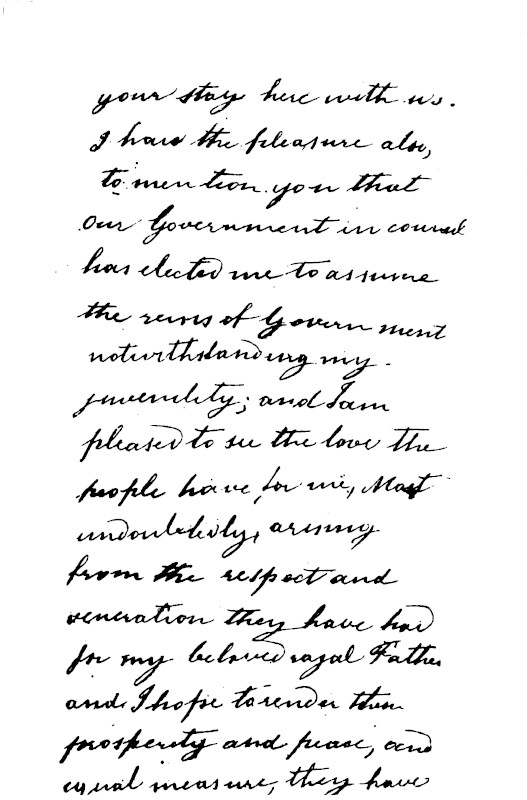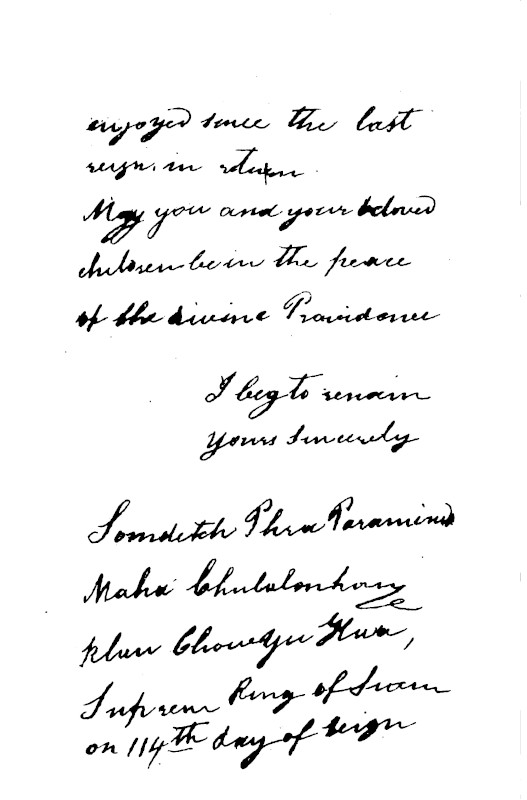 LIST OF ILLUSTRATIONS.


I. THE SUPREME KING
II. THE PRIME MINISTER
III. THE TEMPLE OF THE SLEEPING IDOL
IV. THE BEAUTIFUL GATE OF THE TEMPLE
V. A PUPIL OF THE ROYAL SCHOOL
VI. PRESENTATION OF A PRINCESS
VII. GATEWAY OF THE OLD PALACE
VIII. A WAR ELEPHANT
IX. THE HEIR-APPARENT
X. SIAMESE ACTOR AND ACTRESS
XI. SPIES OF THE TEMPLE WATT-POH
XII. PRIESTS AT BREAKFAST
XIII. THE PRINCESS OF CHIENGMAI
XIV. A ROYAL BARGE
XV. RUINS OF THE NAGHKON WATT. (Double.)
XVI. SCULPTURES OF THE NAGHKON WATT. (Double.)