FAMILIAR STUDIES OF WILD BIRDS
THEIR HAUNTS AND HABITS
F. N. WHITMAN
WITH MANY PHOTOGRAPHS BY THE AUTHOR
BOSTON
RICHARD G. BADGER
THE GORHAM PRESS
COPYRIGHT, 1920, BY RICHARD G. BADGER
Made in the United States of America
The Gorham Press, Boston, U. S. A.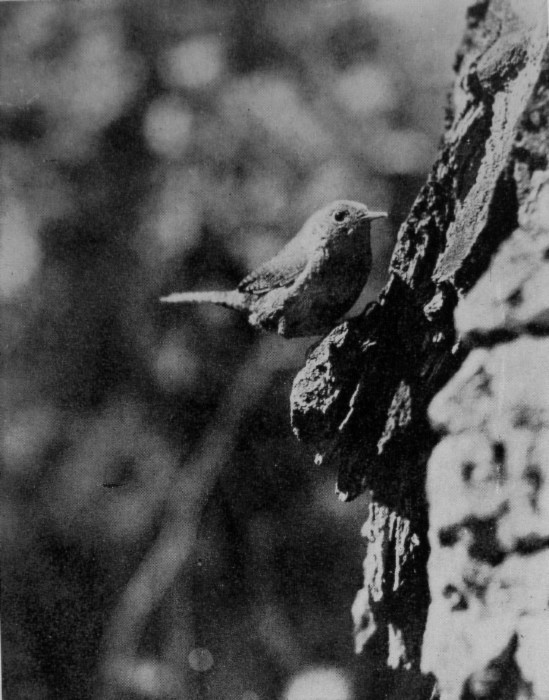 THE FEMALE PARKMAN'S WREN RETURNING TO THE NEST.
CRAWLING UP THE JAGGED TRUNK SHE WOULD SLIP BEHIND THE BARK ONTO HER NEST,
OFTEN WITHOUT A PAUSE
A REMINDER
THE real haven of the naturalist is out in the fields and woods of the country. But for those city people, who do not find the country within their immediate reach, the city park offers a great deal more than may be thought, in the way of material for nature study.
On an early spring morning, the parks of many of our large cities literally swarm with migrating birds. A wide range of species, to a hundred, or even more, may be counted on a single morning, if one rises early and is sharp-sighted. The observer must also have a fair knowledge of the commoner species of birds, or identify them by means of field glasses and guide book.
Every true naturalist or bird lover counts it more or less of an epoch in the spring, when certain of the birds first appear. For instance, the morning when he first sees a bluebird carries a certain spring token which is cherished keenly. Likewise with the first swallow, meadowlark, etc. Each stirs its particular feeling in the bird lover and has its special meaning to him in the consummation of spring. Whether he be in the country or city, the same token will be brought to him, and spring will not pass without imparting its message.
CONTENTS



A FAMILY OF CEDAR WAX-WINGS
THE BRONZED GRACKLE
BROAD-TAILED HUMMING BIRDS
BREWER'S BLACKBIRDS
PARKMAN'S WREN
THE COMMON TERN
YELLOW WARBLERS
A FAMILY OF TREE-SWALLOWS
THE MOURNING DOVE
THE GREAT HORNED OWL
A KINGBIRD FAMILY
NOTES FROM THE INDIANA SAND DUNES
PHOTOGRAPHING BIRDS




LIST OF ILLUSTRATIONS



THE FEMALE PARKMAN'S WREN RETURNING TO NEST
WAXWING CARRYING SEVERAL BERRIES IN THROAT
WAXWING ABOUT TO REGURGITATE A BERRY
A WAXWING IN A GRACEFUL POSE
A WAXWING FAMILY
FIVE YOUNG WAXWINGS SOON AFTER LEAVING THE NEST
WAXWINGS AGAINST THE LIGHT
GRACKLE HOMEWARD BOUND WITH A MORSEL
A MALE BRONZED GRACKLE PICKING UP FOOD
A FEMALE GRACKLE
BRONZED GRACKLE SINGING
THE BROAD-TAILED HUMMING-BIRD ON NEST
THE NEST OF A BROAD-TAILED HUMMING-BIRD
HUMMING-BIRD SHIELDING THE EGGS
NEWLY HATCHED HUMMERS
YOUNG HUMMERS ELEVEN DAYS OLD
THE MALE BREWER INSPECTING THE NEST
FEMALE BREWER BLACK-BIRD
BREWER BLACK-BIRD REMOVING FOOD FROM BILL OF YOUNG
FEMALE PARKMAN'S WREN INVESTIGATING NOISE.
BARK REMOVED TO SHOW INCUBATING WREN
THE NEST OF THE PARKMAN'S WREN WITH SIX EGGS
THE YOUNG WRENS SOON AFTER HATCHING
A CHARACTERISTIC POSE OF THE PARKMAN'S WREN
TERN, AT NEST
TERN GRACEFULLY FOLDING ITS WINGS
A TERN'S NEST AT THE EDGE OF SALT-WATER GRASS
THE TERNS' NESTS ARE MERE DEPRESSIONS
TERN POSED TO SHOW THE GRACEFUL NECK
A YOUNG TERN AT THE STAGE WHEN THEY LEARN TO FLY
A TERN'S NEST IN THE SEAWEED WITH EGGS
YOUNG TERNS ARE GOOD EXAMPLES OF PROTECTIVE COLORING
YOUNG TERNS SQUATTING AMONG THE ROCKS
TERN SWIMMING IN THE WATER
TERNS RESTING AND FLYING ABOUT ROCKS
YELLOW WARBLER ENTERING NEST
NEST OF WARBLER ABOUT TWO FEET FROM THE GROUND
YELLOW WARBLER ON NEST
YOUNG WARBLERS EIGHT DAYS OLD
BUSH WILLOWS ALONG A WINDING CREEK
TREES TO WHICH CAMERA WAS CLAMPED
SWALLOW RETURNING TO THE NEST
YOUNG SWALLOW WITHIN HOLE BEGGING FOR FOOD
YOUNG SWALLOWS
BACK VIEW OF YOUNG SWALLOWS
SWALLOW CLEANING THE NEST
THREE YOUNG SWALLOWS AND AN ADULT FLYING
MOURNING DOVE ON NEST ON A SLOPING LOG
MOURNING DOVE'S NEST IN THE SHOOTS
YOUNG MOURNING DOVE
THE GREAT HORNED OWL LEAVING ITS NEST
YOUNG OWLS ABOUT TEN DAYS OLD
YOUNG HORNED OWLS ABOUT Two WEEKS OLD
YOUNG OWLS AT THREE WEEKS
YOUNG OWLS AT FOUR WEEKS
KINGBIRD THRUSTING FOOD DOWN THROAT OF HUNGRY YOUNG
KINGBIRD FEEDING YOUNG
PARENT KINGBIRD THRUSTS FOOD DOWN FORCEFULLY
AFTER FEEDING THE YOUNG, PARENT KINGBIRD WIPES ITS BEAK
KINGBIRD READY TO LEAVE
YOUNG KINGBIRDS
A GOOD PORTRAIT OF AN ADULT KINGBIRD
THE CATBIRD
A YOUNG WOOD THRUSH JUST AFTER LEAVING THE NEST
WESTERN CHIPPING SPARROW ENTERING NEST
WESTERN CHIPPING SPARROW SETTLING ON NEST
NEST OF LEAST FLYCATCHER
LEAST FLYCATCHER SHOWING FEATHERS ON THE HEAD
LEAST FLYCATCHER AT NEST
YOUNG MARSH HAWKS
A BROWN THRASHER
THE MAGPIE