copyright, Kellscraft Studio
1999-2003

(Return to Web Text-ures)

Click Here to return to
Some Events
Around Boston
Content Page


(HOME)
THE PRINCE OF WALES BALL, OCTOBER 18, 1860.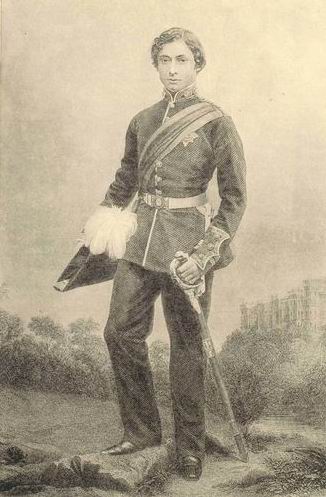 From a print. Collection of Massachusetts Historical Society
THE PRINCE OF WALES (KING EDWARD VII) AS A COLONEL IN THE ARMY.
The scrap-book of some Boston family probably contains the dance card of the Prince of Wales which a lady stole to preserve as a memento of the great ball given on October 18, 1860, in the Boston Theatre, on the corner of Court and Hanover Streets. Bostonians endeavored to have this ball outshine in splendor the one given by the New Yorkers, and from all accounts they were successful. The decorations were quite wonderful, a large picture of Windsor Castle being specially admired by the visitors, and the Prince pointed out to several people where his particular room was in the Castle. One eye-witness described the ball as a great crush. The only accident of the evening happened shortly after the arrival of the Royal party. While Mr. Zerrahn's noted orchestra was playing, some one upset a vase of flowers in front of the Royal box, scattering water and leaves over the Prince, who made light of the mishap. The Prince entered on the arm of the Hon. R. C. Winthrop, and opened the ball by dancing a quadrille with Mrs. Lincoln, the wife of Mayor Lincoln. His partners for the other sixteen dances were as follows: Mrs. Banks, wife of Governor Banks; Mrs. Wise, a daughter of the Hon. Edward Everett; Miss Fanny Crowninshield, Miss Susan Amory, Miss Carrie Bigelow, Mrs. T. E. Chickering, Mrs. Harrison Ritchie; Miss Lombard, the Mayor's niece; Miss Fanny Peabody, daughter of George Peabody of Salem; Miss Mary Crane; Miss Kittie Fay, daughter of the Hon. R. S. Fay; Mrs. C. F. Chickering; Miss Appleton, Mrs. Isaac C. Bates and Miss Nellie Gage. One of these partners was so beautiful that the Prince wished to have a second dance with her but the committee objected. The younger set of girls looked with jealousy upon those who were old enough to attend the ball, and were anxious to learn all about it. Many fathers sought the opportunity for their daughters to meet and dance with the Prince of Wales, and loud were the complaints of those who were disappointed. The committees in charge of the balls that were held in the various cities were blamed because the members in charge introduced only their own friends to the Prince. At one place (not Boston) the following amusing piece of poetry appeared:—
"Sought not his taste to please,
Asked not his wishes,
While all around him stood
So many misses;
Belles at the right of him,
Belles at the left of him,
Belles all in front of him,
Young and full grown;
While the committee set,
All around went to get
Friends of their own."
The Prince, who was only nineteen years of age, was most attractive and danced unusually well, therefore it was not surprising that he remained at the ball until after four o'clock. As he left, the band played "God save the Queen." The managers were as follows:—
James W. Paige
J. Thomas Stevenson
Harrison Ritchie
John Quincy Adams
Thomas G. Stevenson
F. W. Palfrey
W. C. Otis

George Blagden
W. P. Mason, Jr.
Samuel M. Quincy
Francis Bartlett
J. Frederic Marsh
Frank W. Andrews
Francis Braggiotti

E. M. Dennie
John F. Anderson
N. D. Hubbard
H. C. Brooks
J. Henry Sleeper
Edward Thayer
John Homans, Jr.

T. S. Cushing
Augustus T. Perkins
F. A. Osborn
Robert G. Stevenson
Robert F. Clark
S. Horatio Whitwell

David Arklay
F. S. Dewey, Jr.
Channing Clapp
Henry S. Tappan
George B. Upton
G. Howland Shaw

Frank Bush, Jr.
Frederick W. Bradlee
John D. Bates, Jr.
J. Dixwell Thompson
J. Goodwin Whitney
Casper Crowninshield

James A. Amory
F. W. Reynolds
Jonas H. French
R. W. Emmons

Theron J. Dale
H. P. Ammidown
F. S. d'Hauteville
E. A. Boardman, Jr.

William Pratt
S. F. Barstow
Amos Binney
Ozias Goodwin, Jr.

W. H. Hinckley
John B. Babcock

John T. Prince, Jr.
William B. Rice

W. L. Horton
While the Prince of Wales was in Boston, Ralph Farnham, an old soldier, a hundred and four years old, who had fought at Bunker Hill and who was present when General Burgoyne surrendered at Saratoga, was brought in to pay his respects to the distinguished visitor. Mr. Farnham said he had heard so much in praise of the Prince that he feared the people of his country were all turning Royalists. This remark was received with much merriment.
While in Boston the English visitor attended a review on the Common and visited Harvard College and Bunker Hill. A musical festival was also given at Music Hall, where twelve hundred children sang the verses composed by Oliver Wendell Holmes, to the air of "God save the Queen" (the last verse is particularly interesting at this time) :—
"God bless our fathers' land,
Keep her in heart and hand
One with our own!
From all her foes defend,
Be her brave people's friend,
On all her realms descend,
Protect her throne!
"Father, in loving care
Guard thou her kingdom's heir,
Guide all his ways:
Thine arm his shelter be
From harm by land and sea,
Bid storm and danger flee,
Prolong his days!
"Lord, let war's tempest cease,
Fold the whole world in peace
Under thy wings!
Make all the nations one,
All hearts beneath the sun,
Till thou shalt reign alone,
Great King of kings."
After the ball given in New York there appeared some amusing verses entitled "The New York Ball to the Prince, or the Belles he danced with":—
"Twas a grand display, was the Prince's hall,
A pageant or fęte, or what you may call
A brilliant coruscation;
Where ladies and lords of noble worth
Enchanted a Prince of royal birth
By a royal demonstration.
"But soon the floor was set aright,
And Peter Cooper's face grew bright,
When, like the swell of an organ,
All hearts heat time to the first Quadrille,
And the Prince confessed to a joyous thrill
As he danced with Mrs. Morgan.
"Then came the waltz, the Prince's own—
And every bar and brilliant tone
Had music's sweetest grace on;
But the Prince himself ne'er felt its charm
Till he slightly clasped with circling arm
That lovely girl, Miss Mason.
"But ah! the work went bravely on,
The meek-eyed Peace a trophy won
By the magic art of the dancers;
For the daring Prince's next exploit
Was to league with Scott's Camilla Hoyt
And overcome the lancers!
"Besides these three he deigned to yield
His hand to Mrs. B. M. Field,
Miss Jay and Miss Van Buren.
Miss Russell, too, was given a place—
All beauties famous for their grace
From Texas to Lake Huron.
"With Mrs. Kernochan he 'lanced,'
With Mrs. Edward Cooper danced,
With Mrs. Belmont capered;
With fair Miss Fish, in fairy rig,
He tripped a sort of royal jig,
And next Miss Butler favored.
"And so the fleeting hours went by,
And watches stopped—lest time should fly—
Or that they winding wanted;
Old matrons dozed and papas smiled,
And many a fair one was beguile
As the Prince danced on, undaunted.
"'Tis now a dream—the Prince's ball,
Its vanished glories, one and all,
The scenes of the fairy tales;
For Cinderella herself was there,
And Barnum keeps for trial fair
The beautiful slipper deposited there
By His Highness the Prince of Wales."
The journal of the trip written by the Secretary of the Earl of Newcastle, who was with the Prince's party, describes the visit to Boston in most flattering terms. It reads: "The feeling towards England as towards a home, the home of their forefathers, the home of their warmest feelings, is more apparent here than elsewhere in the States; their welcome is more cordial, their invitation to revisit them more earnest."

Click the book image to continue to the next chapter