Copyright, 1907
BY L. C. PAGE & COMPANY


First Impression, May, 1907


Second Impression, September, 1910


Preface
OUR little Arabian cousins live in a far-away land, where all the manners and customs of life are very different from our own.
The little Arab children of the desert are quite different from those who live in the towns, as, indeed, are their elders. The Bedouins of the desert are by no means an uncivilized race, and their kind-heartedness and strict regard for doing by others as they would be done by is a marked feature of their daily life.
This little book tells of the comings and goings of two little children of the desert; how they lived their lives; their plays and games; and many of the curious sights they saw as they travelled about with their parents, on one occasion visiting the great city of Medina, where they were as much strangers as if they were little American cousins who had come there on a journey.
Arabia itself is a wild, sad country, but with here and there great patches of verdure, date-palms, cocoanuts, and coffee plants which give prosperity to the inhabitants. Some of the tribes are warlike and less peaceful than others, but they are the outcasts of the country, the same as are found elsewhere than in Arabia.
Our little Arabian cousins have much in common with other little cousins, in that they are very strictly brought up, and are taught to have a great respect for their elders, and particularly to be polite and thoughtful to strangers. Their games and many of the acts of their daily lives are what we ourselves would consider violent and rough, but that only shapes them in their future careers to live up to their ancestral traditions.
B. M.
CONTENT
List of Illustrations
[MAP]
HAMID
A SCHOOL IN MODENA
IN THE BLACK TENTS
IN THE "SHUGDUF"
THEY SCATTERED THE GRAIN ALL ABOUT THE COURTYARD
THE CARAVAN ON THE ROAD TO MECCA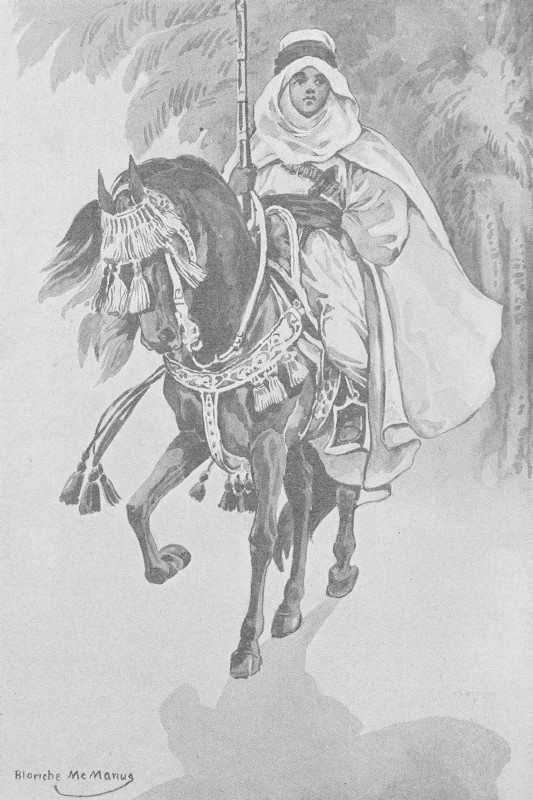 HAMID